He is your friend, your partner, your defender, your dog.
You are his life, his love, his leader.
He will be yours, faithful and true, to the last beat of his heart.
You owe it to him to be worthy of such devotion. -- Unknown
Freedom Vizslas is focused on breeding puppies with exceptional health and temperament while preserving the Vizsla standard. Freedom Vizslas are breed for athletics, hunting companionship and the very important role of being a loving member of the family. My goal is to breed quality Vizslas that can bring years of family enjoyment to others as mine have to me.
I met my first Vizsla in March of 2004. He was such a gentle, intelligent, loving guy. Later that year I went to a mock hunt test for the Vizsla club to learn more about the breed, I was hooked. Watching Vizslas in action…doing what they do so instinctively with such drive, such freedom…it was exhilarating! I set my sights on owning a Vizsla of my own. Of course I was looking for the same bloodlines of that first Vizsla that stole my heart and I found Sizzlevilles Tornatious Lilady (Tori) in 2006. As they say…you can't have just one so in 2008 I got Deuce and established Freedom Vizslas. By Deuce's second birthday in March of 2010 Tori and Deuce had completed Show Championships, earned Junior Hunt titles, and placed (Top 4) in Field Trials. I am thrilled to have these two as my family and grateful for all that I have learned from them.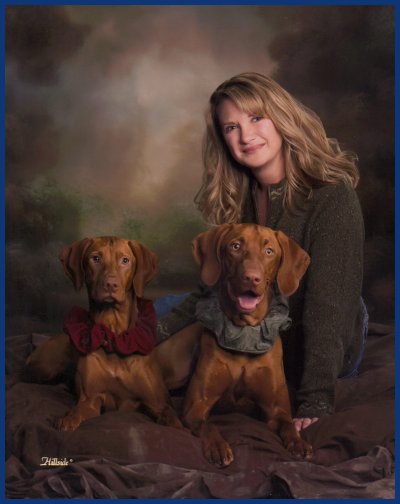 Member of
Vizsla Club of Illinois
German Shorthair Pointer Club of Illinois